Your dream holiday in real luxury Tuscan villas
Our luxury villas in Tuscany are the perfect solution for travelers who wish to enjoy an authentic and relaxing holiday in the Tuscan countryside. We always have the ideal accommodation for you: we offer different structures of the highest quality, all of them impeccably furnished and equipped with all comforts. You can choose the villa you prefer according to your needs, the number of guests, the location and the style you prefer.  You will experience a unique and unforgettable experience in a rural and charming atmosphere. All our villas are surrounded by nature and offer breathtaking views: framed by green hills, close to fascinating medieval villages, and a wealth of natural and cultural attractions to explore and experience nearby.
Max 22 persons
Villa Ferranesi is a beautiful design villa immersed in the magic area of the "Crete Senesi". Here, modernity and minimalist elegance blend harmoniously with each other in the rustic Tuscan style. The splendid panoramic swimming pool overlooking the Tuscan landscape will be the perfect setting for your memories. The luxurious interiors of minimalist architecture perfectly match the simplicity of the old rustic Tuscan style. You will have a large and wonderful garden with secluded places to relax away from everything and from everyone and where you can enjoy 360° views of the incredible panorama of the Crete Senesi.
Rest for body and mind, with a breathtaking view on the Val d'Orcia and Monte Amiata.
Max 14 persons
Podere Isabella is a traditional Tuscan stone country house built in 1900 and inhabited by peasant families until the 1960's. The house has a unique 360° degree view on the spectacular panorama of the Val d'Orcia and is a truly enchanted place, born out of love and the search for beauty. The villa sits in the heart of Val d'Orcia, an area filled with timeless art, ancient small villages and pictoresque landscapes, not to mention thermal pools, fine dining and wine tasting of the most famous red Italian wines. It's a place for rest and relaxation, at the end of a dirt road with only a few scattered neighbours, and enjoys total privacy.
Max 4+2 persons
Art Hangar is a truly unique accommodation: if you love art and design then this is the place for you! Art Hangar is a truly special location in Tuscany for lovers of design and industrial architecture. It is very rare to find such a modern interpretation of living in the Tuscan countryside. The immense glass walls integrate the Tuscan landscape and the surrounding private gardens harmoniously with the interiors. There is also a 20 meter overflow swimming pool and a converted naval container which houses the sauna in the garden. All of this is surrounded by the ubiquitous cypresses, oaks and broom. And naturally…let's not forget the views on the medieval hamlet of Montilifré. Art Hangar is the perfect base for artists, dreamers, all who want to step away from the beaten path.
Villa with incredible view
Max 11 persons
Located in the heart of Tuscany, 40 km southeast from Siena (near Sinalunga), in an area known as the "Crete Senesi", Podere Romitorio is a secluded old farmhouse built in the 19th Century. The farm, which features all modern comforts, has been reconstructed in the original rural Tuscan style (of the area). The luxurious interior mixes modern elements with old Tuscan furniture and the secluded garden is the perfect place to relax and unwind. Both the house and the pool offer stunning views over the Tuscan countryside. At Podere Romitorio you have the opportunity to spend dream holidays away from it all. You will enjoy complete privacy here with no other guests to share the house or pool with.
Max 12 persons
The classic and captivating landscaped postcard photo of the rolling hills of the Val D'Orcia ( a UNESCO World Heritage Site since 2004), the stuff of dreams, becomes a reality here at Villa Giardinello, our luxurious traditional Tuscan villa , entirely dedicated to your well-being and comfort. Generously proportioned and tastefully furnished rooms come as standard for all our guests.
Terra & Tu Wellness Adventures offers Tuscan experiences that go far beyond yoga retreats. Carefully crafted to discover the countless highlights and subtleties Tuscany has to offer, our specialized itinerary allows guests to taste traditional Tuscan cuisine made with farm fresh ingredients, learn to cook with lessons from our personal chef, tour private vineyards and out-of-the-way centuries-old wineries, and, at the side of our professional local guides, explore the ancient hilltop villages, verdant valleys and rarely used pathways of the Italian countryside. Private departures are available upon request.
Have you ever dreamed of living in the Tuscan hills? In this particular moment, the temptation to leave the cities and choose a better lifestyle is becoming more and more tempting. Discover our proposals to live, work and regenerate yourself in our villas and apartments in the Tuscan countryside. Treat yourself a long stay immersed in nature, with your family, with a special person, with friends or to work in a beautiful place, quiet and safe. Contact us to discover our offer of long-term rentals in Tuscany.
If you are planning your holidays with your family, Tuscany is the right destination for you. Discover our villas and all the activities that will make memories that you will cherish in your family for years to come. Book now your unforgettable family holiday in Tuscany. Tuscany encapsulates the immense cultural heritage and the scenic beauty of Italy. Renaissance cities and medieval villages are living open-air museums. The famous rolling hills will be the perfect setting for your memories and for tasting all the local delicacies. Choosing Tuscany as your holiday destination means sharing all this with your loved ones.
Tuscany offers the perfect setting for cyclists, of all levels. If you, or your group, are looking for adventures on two wheels, we will help you choose the best bike or e-bike tours in Tuscany whilst staying in our luxury villas. Head for the white roads and cycle along the famous cypress-lined roads, visit the picturesque medieval villages such as Montalcino and the most beautiful Renaissance cities such as Pienza or Montepulciano. In our luxury villas all cyclists will find a wide range of services and facilities dedicated to them. After an exhilarating bike tour through the breathtaking landscapes of the Val d'Orcia or the Crete Senesi, you can unwind and relax in your private villa with all comforts.
If you are looking for a villa in Tuscany for your dream wedding, we have the perfect place to host an unforgettable ceremony. You can celebrate your wedding in the harmonious setting of the rolling hills of Tuscany within easy reach of ancient medieval villages and splendid Renaissance cities.  Tuscany is a taste of paradise and there are many reasons to choose it as your wedding destination.  Your wedding in Tuscany will be unforgettable, first of all for the immense beauty of the location but also for the food and wine delicacies, for the ideal climate and for the beautiful landscapes that embrace it. Our villas in Tuscany for weddings are the perfect setting for your big day. From every angle of this elegant and prestigious setting you will be enchanted, as befits the choice of location for the most important day of your life!
Guests staying in our luxury villas in Tuscany have the opportunity to take advantage of exclusive services and unique experiences for a truly once in a lifetime holiday: feel free to liberate the epicurean in you! Rita is a true professional with a great passion for cooking. Her signature dishes, which you can enjoy while staying with us, are a real treat for the palate. Rita is an excellent cook and prepares gourmet meals based on local and seasonal ingredients for delivery to the kitchen of your villa. Rita can organise exclusive activities, such as a private chef service, for you as well. Nothing to worry about, no rush, no stress! Rita will take care of every aspect of your meal. After a day spent visiting Tuscany, you will be delighted to savour the flavours of Rita's delicious cuisine.
Whether you are organising a family reunion in Italy or just a trip for small or large groups, our luxury villas in Tuscany will welcome you, meeting your needs with flair and attention. Our villas can host groups from 4 to 22 people and can offer solutions appreciated by travelers of all ages. Grandparents and parents will appreciate the privacy that our villas offer, the younger guests will appreciate the large outdoor spaces and exclusive services but everyone will love the stunning views of the Tuscan landscape.
Looking for the right location in Tuscany for a corporate retreat or a corporate team building? Here are the perfect solutions to recharge the batteries of your work group!
We are experts in assisting companies who seek resorts or luxury villas to structure their team building programs. From the world-famous Brunello wine region of Montalcino, to the 'landscape of the soul' of the Val d'Orcia, a UNESCO World Heritage Site, to the charming Crete Senesi, we organise personalised group activities for your company retreats. Some of our guests' most popular activities include cooking classes, bike tours, wine tours and hot air balloon tours.
Discover all the best things to do in Tuscany. Choose from a vast range of outdoor activities tuscany and experience the holiday of a lifetime.
We offer 'a best price guarantee' as you are booking directly.
Our aim at the properties we rent, is very simple: 'to offer you a home away from home'.
Being your local hosts, we sincerely hope to share with you this great feeling of genuine hospitality in Tuscany.
Loved the hospitality offered by Rita and Johny during my art-hangar stay...see you back soon!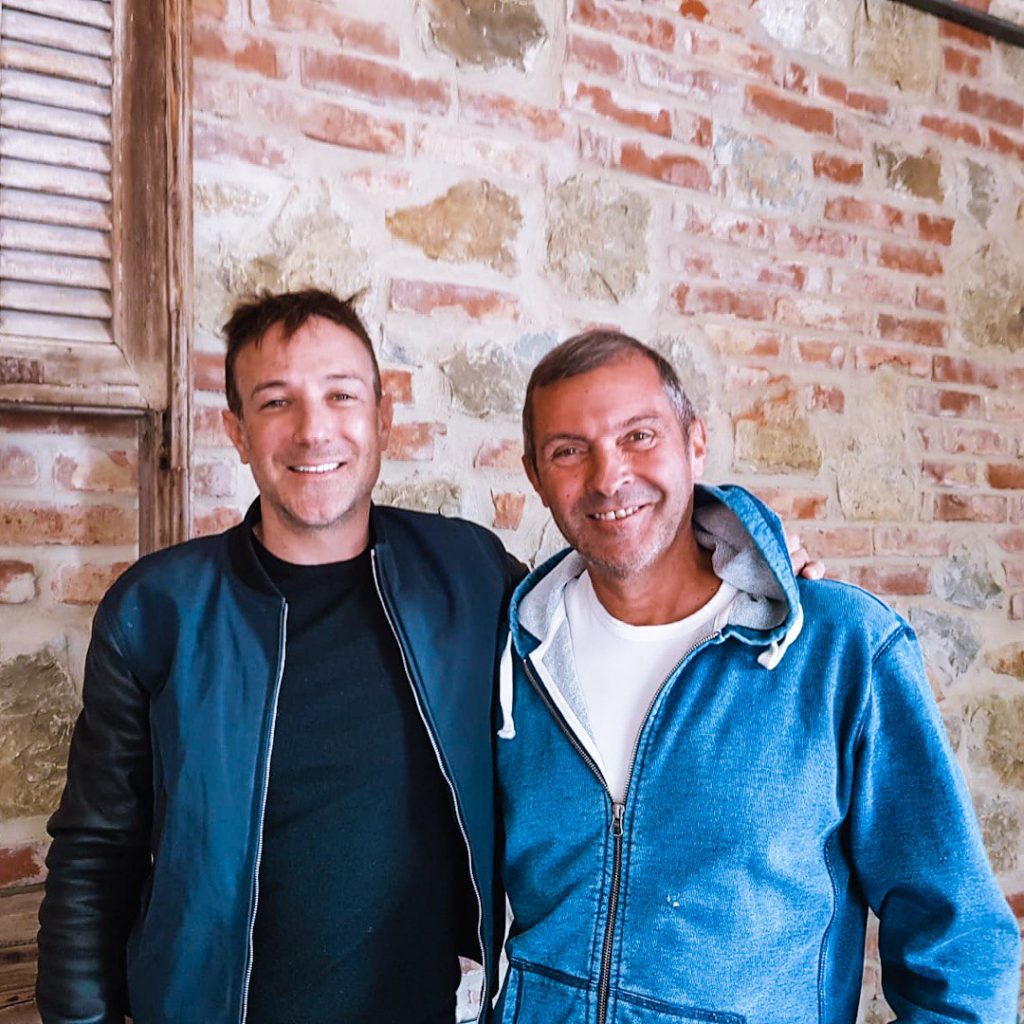 Ciao Johny.
Thanks to you and Rita for hosting us and making us live days of relaxation, privacy, but above all getting to know a fantastic place, in a wonderful property.
My wife and I hosted 18 of our friends at Podere Ferranesi before our wedding elsewhere in Tuscany, and we couldn't have asked for a better place for everyone to stay. The surrounding countryside is spectacular; the villa itself is pristine; and the location is convenient for exploring the heart of Tuscany. Beyond that, Johny and Rita were infinitely gracious and helpful hosts...
We had our amazing wedding at Villa Ferranesi and we couldn't have a better choice for our big day! Johny and Rita made an excellent job and we had a delicious wedding dinner. All of our guest were amazed of the beautiful location and the venue and we can't stop talking about our memories and experiences at Ferranesi. The sunrise was so miraculous in the mornings at the pool that we have never seen before. Johny and Rita made our big day so perfect as in our dreams!
Johny and Rita are the best! Not only are they professional, but they're lovely people who make you feel like an old friend. I hosted by husband's birthday at a villa in Tuscany, and they provided so much support for me during the planning. The birthday dinner that Rita and her team prepared for us was one of the best meals we had during the 3 weeks we were traveling in Italy. Extraordinary service!!